Push notifications are proven marketing channels to drive conversions, and thereby, your business growth. Businesses and brands use these to promote different customer actions, such as reconsidering an abandoned cart, re-engaging with your website, participating in a survey, visiting your social media channel, availing an offer, etc.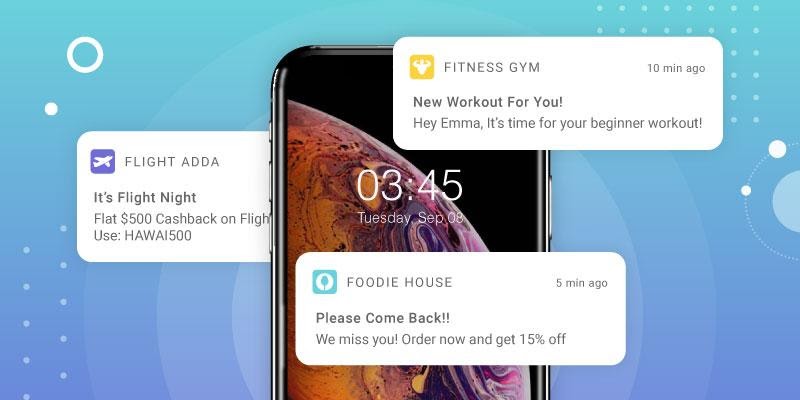 However, push notifications can end up being annoying and intrusive if done wrongly, resulting in a very bad impression of your brand. But if done rightly, these can increase the conversions of push-acquired visitors by even 100%. That is why you need to know what works and what doesn't concerning push notifications. 
Here is a list of 13 web push notification strategies to help grow your business in 2021.
1. Timing matters
Sending push notifications can make you lose users. So, find out which time works the best for your business. Studies say that for Wednesday mid-afternoons work for messages targeting stay-at-home parents; Monday mornings for commuters; Tuesday mornings (from 9 am to 10 am) for sending publishing, blogging, and media content; and Wednesday evenings (from 3 pm to 4 pm) for e-commerce businesses. 
So, carry out some research to find what timing works the best for your business. Generally speaking, it is best to avoid sending notifications very early in the morning when people would be busy and after dinner hours when they would be in bed. 
2. Value matters
With the marketplace flooded with heavy competition, you can thrive only if you offer value. Your users have opted to receive your pushes, trusting that you will send them useful information. So refrain from sending irrelevant, ill-thought-of, and useless messages. Ensure that your notification provides value to the recipients. Send them pushes with recent updates, new information, exclusive access, offers, etc. 
For instance, if you own a beauty parlor, send push notifications announcing special offers and deals, introducing new packages, announcing loyalty and reward programs, recommending beauty tips, reminding appointments and schedules, etc. This way, your users will find your pushes useful and stick to you. 
3. Frequency matters
Sending too many or too few push notifications can increase the bounce rates and opt-outs and lower the engagement and conversion rates. However, the accepted frequency differs for different industries. So, you need to know what frequency of sending push notifications works for your business.
The most effective way to find your optimal push notification frequency is with a trial and error method. You can do this by carefully monitoring your time spent on a page, click rates, opt-outs, and bounce rates. Till then, it is to stay on the safer side by sending only one notification per week. Generally speaking, 1 per week for furniture sellers, 2 to 3 for fitness product/service providers, 2 to 5 for cosmetic and fashion businesses, and 1 to 2 for art and electronic businesses work, says a study.
4. Personalization works
Personalization is one of the working strategies ever since the evolution of push notification technology. However, poor personalization doesn't work. People have started expecting high personalization today. And the top-notch advancements made in technology make this possible. 
So, in 2021, you need to know about personalization segmenting your users into narrowly defined categories. You can do this by asking your subscribers to tick their preferences when they are opting in. You can also do this by applying behavioral segmentation. Categorizing users based on their on-page activities like links clicked-through, type of content viewed, etc. 
For instance, if a user has been clicking through blogs related to fitness, the store should mark him/her as someone interested in the fitness section and send him/her a notification whenever a new blog in that category is published.
5. Location matters
Geofencing and geotargeting are two strategies that push notification marketing should apply to target users based on their location. Geofencing refers to making a virtual enclosure around a specific location relying on the users' IP addresses. 
Services like Snapchat allow you to geofence. By Geofencing, you can target locations such as neighborhoods, hotels, stadiums, universities, etc., to an audience in that location. For instance, a hotel may send notifications of a special menu to people within that location. 
Geotargeting refers to delivering messages to users that meet a specific targeting criterion and fall within a defined location. Here, user criteria like behavior, demographics, interests, etc., are taken into consideration. For instance, a toy store announcing the discount sale of Barbie dolls sends notifications to people who have daughters aged below eight within that location. 
6. Tone matters
The tone of your message can have an immense effect on the outcome of your push notification marketing. To make a positive impact, you should convey your brand's message with some fun and friendliness. This will turn a simple and boring message into something interesting to receive and read. 
Consider the following push notification sent by Sunshine, a weather app. It has made the dull message- "It'll be cold today" sound wonderful by creatively tying it with "World Smile Day." It is attractive in yet another way, which is personalization by way of greeting the recipient by her name. 
The recipient certainly would love to receive more messages from this brand. So, do invest some time and effort into writing your message's copy. Make sure that you use simple language for conveying your message. 
7. Rich media works
A study that analyzed five million push notifications found that those pushes with images had a 56% higher open rate than those with text alone. So, do include relevant images in your push messages. These convey your message better by many times than mere words do. Adding other rich media such as emojis, videos, GIFs, photos, and audio also works.
While creating a message with rich media, you should also consider those users who will not be able to view the rich media. You can do this by not making a reference to the rich media in your message's copy. Another way is to segment your users to target only those who are likely to receive the image. Yet another way is to use alternate text. Use two text options such that one is used only when the image downloads and the other when it doesn't.
8. CTA matters
You can drive engagement and revenue by using an impressive Call to Action (CTA) button. It can add value, increase the click rate, increase the time spent on your website, and promote a new feature, service, or product. While writing your CTA copy, make sure that you don't use words that don't work for your industry.
For instance, studies have found that words like 'blockbuster,' 'get ready, and 'special' end up having an adverse effect in the entertainment and events industry; 'old,' 'treatment,' and 'pain' don't work in the health and fitness field; and 'please,' 'price,' and 'trade' in the finance sector. People like to receive certain words like 'handpicked,' 'don't miss,' 'indulge,' 'win,' 'today, 'limited,' 'hassle-free, 'now,' 'soon,' 'get free,' 'missed,' 'free,' etc. 
The color and positioning of your CTA button also have a big influence on the conversion rates. So, find out what works well for your brand and business in this regard. 
9. Length matters
Push notifications bring in high conversions mainly because these are short and crisp. They convey the intended message in a fraction of time. Businesses, brands, and marketers who use push marketing should know the ideal message length that works. 
CleverTap, a mobile marketing and customer life-cycle management company, carried out a study to find the ideal message length of push notifications for various industries. It concluded that 45 characters work best for food and delivery, utilities and services, and media and publishing; 25 characters for training and education; 55 characters for business and finance; 85 for retail and e-commerce; 90 characters for health and fitness, events, and entertainment, and hospitality and travel; and 20 characters for coupons and deals. 
10. FOMO works
FOMO is the abbreviation for "Fear Of Missing Out." It refers to social anxiety where a person believes that he may miss out on the fun others are experiencing and, therefore, desires to continually stay connected with the mainstream. Using FOMO in push notifications can excellently drive conversions.  
Announce limited-time offers and flash sales. Because of the time-driven nature and exclusiveness of such deals, they generate instant conversions. Further, other people too tend to sign-up for your notifications as they start thinking that your subscribers are getting a better deal. 
The trick is to introduce scarcity and urgency in your offer along with a ticking clock. This will push recipients to make quick decisions in their favor. For instance, if you announce 50% off until the end of June, it triggers the FOMO to purchase before the 1st of July when the offer would be gone. 
11. Offers work
Make an offer that your users won't be able to resist. Offering an incentive convinces the viewer to take the action you want them to take. Your offer need not always be exclusive discounts on purchases; these can even be free e-books, webinar invites, checklists, exclusive tips, reports, podcasts, etc. E-commerce stores can give daily deals, coupons, vouchers, discounts, etc. 
Your offers need not be just one-time deals to get them to sign-up for your notifications. You can keep sending them offers periodically to keep them engaged with your brand. This can be something that provides interesting information that they would like to know. This will seamlessly connect them with your brand.
For instance, a travel and tourism business can send them notifications linking them to the list of destinations suitable for spending their hot summers, the exclusive food items available at the places of their interest, and more.
12. Advanced features work
Using advanced features that today's technological advancements allow can improve the performance of your push notification campaigns. Certain leading features offered by leading software as NotifyVisitors push notifications include-
Support for all browsers:

When your push notifications support all commonly used browsers such as Google Chrome, Safari, Firefox, and Samsung Internet, you have a wider reach. 

User segmentation:

Segmenting your users based on their subscription period, demographics, devices, browser, on-site behavior, and information they have filled in facilitates better targeting. 

Triggered notifications:

Setting up specific push notifications to be sent to users when they take a particular action can increase conversions. For instance, cart abandonment notifications get triggered when a user leaves your e-commerce store without purchasing the items he added to the cart. 

Personalization:

When the software uses the user's data to send him information that is useful, relevant, and personalized, it increases the CTR by 4X. 

Support for AMP pages:

With more and more websites getting converted to AMP, your push notifications must support those. 
13. Tracking outcomes matter
You need to analyze how each of your push notification campaigns is performing. For instance, if you have launched a new product, you must evaluate the number of users who received the notification, viewed the product, read the specifications, went through the reviews, applied the promo code, included the item in the cart, and made a purchase; and the number of users who left the process in the midway and the touchpoints where they did so. 
Tracking the performance of your push notification campaigns in such an in-depth manner would give you deep insights to improve your marketing strategy and launch better campaigns in the future. A tool like NotifyVisitors can come in handy in this regard. 
Final words.
Push notifications are great channels to reach your audience with the right message at the right time and bring out a favorable action from them. However, you need to know how to get your push notifications right. Our list of 13 web push notification strategies has told you what matters and what works to push notification marketing. Do remember these while designing and executing your future campaigns. Best of luck!