If you want to accelerate and streamline the way you build brand awareness and generate leads without overhead expense then you need to rank higher on the search engine result pages.
The only way to do it is to optimize your content according to search engine algorithms.
There's a variety of SEO tools that we can leverage to develop profitable marketing strategies and increase our rankings in real-time.
Read this article to find out about the Free SEO tools that every digital marketer must use to boost their performance and generate more revenue.
Google Keyword Planner
The Google Ads Keyword Planner is a handy tool to find the right and relevant keywords with ease. Using this, you can easily develop effective keyword strategies and launch PPC campaigns with a promising future.
It can also assist you in choosing top-ranking keywords for web content, selecting competitive bids, and finalizing the right budget for the marketing campaigns.
Let's suppose you are dealing in shoes locally and across the country. If you use keywords like "leather shoes" or "sneakers", then it is possible that it will not get a high bid. Anyhow, with Google Ads Keyword Tool,
you can easily find the terms, phrases, and words that potential clients are searching for. This way you can easily identify the keywords that can rank higher to generate more revenue.
All you have to do is visit Google Keyword Planner to discover new keywords as well as get search volume and forecasts in real-time.
Once you master the basics of using the Google Ads Keyword Tool, you can easily take your marketing campaigns to the next level.
Grammarly
The demand for Grammarly is unquestionable among Digital Marketers. It is used by millions of webmasters including marketers, writers, and sellers.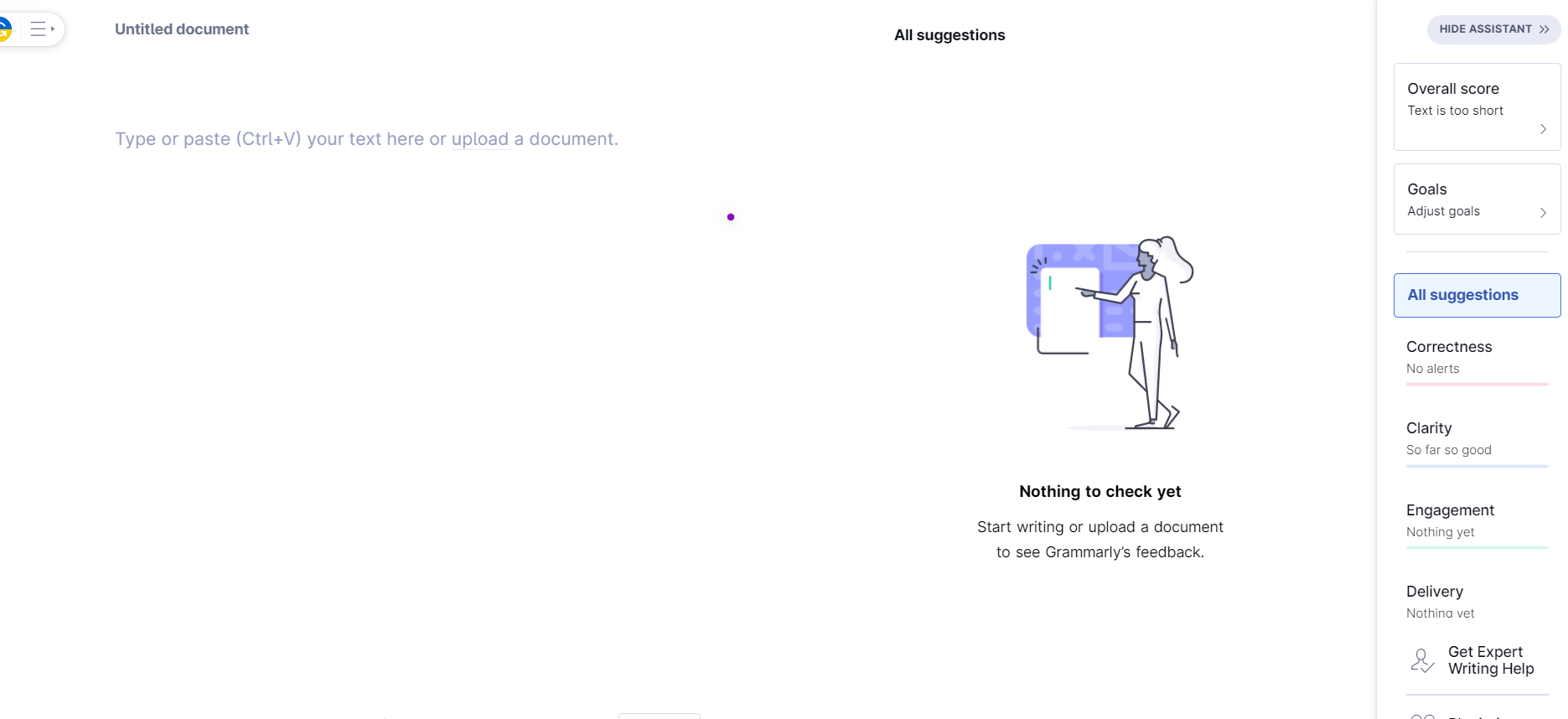 Grammarly analyzes the given content, fixes grammar issues, and provides pertinent writing suggestions.
In addition, it detects plagiarized content and tracks the sources from which the content was copied.
However, keep in mind that you can access Grammarly's plagiarism checker only if you buy a subscription plan.
Grammarly offers three subscription plans: Free, Premium, and Business.
If you are a professional digital marketer and run your business then the Grammarly business is the best option for you because it unlocks all the features that you need to accelerate and
improve your team's writing performance. You can add 3 -149 members to Grammarly's business plan, enabling your whole team to use it seamlessly.
Check-Plagiarism.com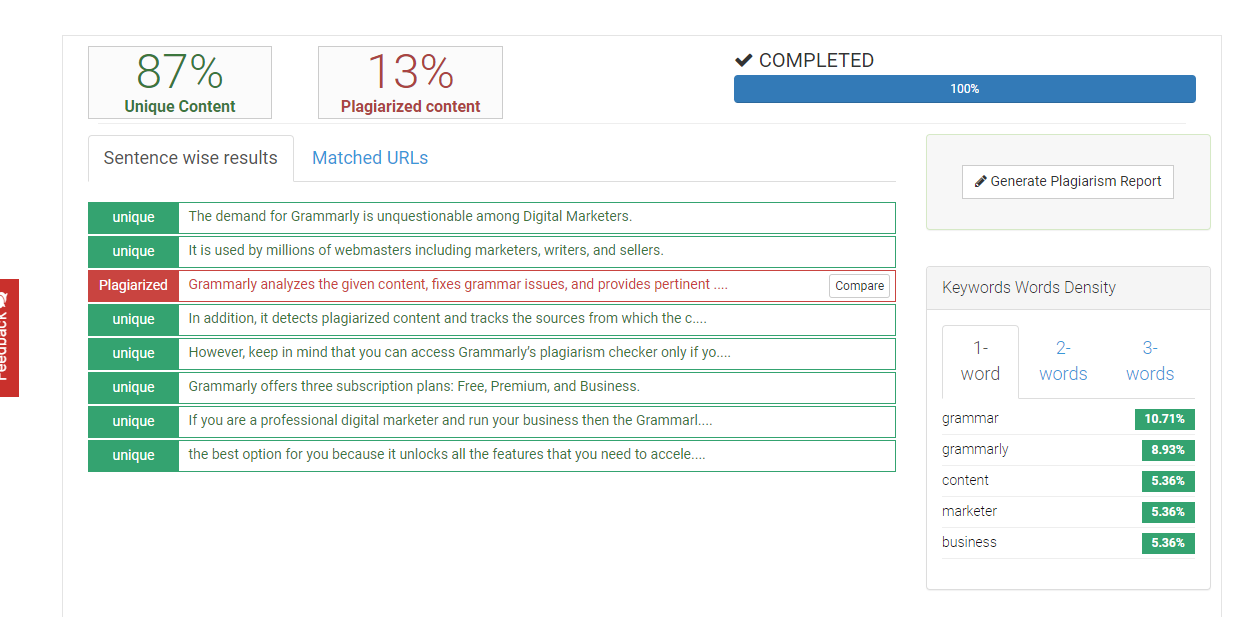 Check-plagiarism.com is basically a digital platform that features multiple AI tools for digital marketers. Its powerful content tools include a plagiarism checker, rewriter, text summarizer, grammar checker, and citation generator.
If you want to accelerate your content creation process then this is your go-to platform. Here, you'll find every optimization tool that you can leverage to generate high-quality content for any type of marketing collateral.
Whether you need to find duplicate content, remove plagiarism, improve content quality, check grammar mistakes, summarize any text, or generate citations to prevent the chance of plagiarism in real-time, Check-plagiarism has got you all covered.
Undoubtedly, this is the best resource to enhance your content quality and increase your chances for higher rankings without spending extra time or money.
Yoast SEO Content Analysis Tool
Yoast SEO enables webmasters to do real-time search engine optimization and improve the content with ease.
Basically, it is a plug-in that is integrated into every WordPress site. In case you don't have a WordPress site, you can leverage its online content analysis tool.
Just search for "Yoast Real-time Content Analysis" and you'll find your way to the most reliable free SEO tool that you can use to enhance the readability and on-page score of your content.
Yoast SEO real-time content analysis works effectively to tell you how well you have optimized your content. It will highlight the issues and guide you on how to fix them to enhance content quality.
It works just like a WordPress editor: you can write, edit, analyze, and optimize your content by all means. Enter your content to find and fix the content readability issues including:
Text Length
Sentence Structure
Cohesion & Coherence
Paragraph Length
Heading Distribution
Readability Score
Moreover, it will enable you to do On-page SEO of your content as follows:
Enter Focus Keywords
Measure Keyword Density
Monitor Keyword Placement
Create Meta Description & Title
Preview SERP Snippet
Ahrefs Website Authority Checker
Digital marketing tools from Ahrefs are among the most widely used and acclimated in the world. Although Ahrefs is a premium digital platform, there are some SEO tools that you can leverage for free of cost such as DA checker.
If you want to check how much ranking potential a website has then you can use Ahrefs without any subscription charges. It's simple: access its website authority checker, enter the domain name, and there you go with the given website's DA score.
Undoubtedly, DA makes it easier to check the credibility of a website and find out how well it has been performing on the SERPs. Higher DA means higher chances of ranking on result pages and higher payouts for sponsored posts.
For the record, the free version of the Ahrefs website authority checker comes with a usage limit. So, if you want to gain unlimited access then you'll have to switch to a premium plan.
Conclusion
There are many SEO tools that you can use to gain actionable insights about your website performance and develop effective optimization strategies to maximize the impact of your marketing efforts. Anyhow, the most important SEO tools that every digital marketer should use include keyword research tool, plagiarism checker, readability checker, optimization tool, and authority checker.